Main content section
The Idea
The idea for TracPal arose from the company's founder Björn Eriksson, who himself suffers from osteoarthritis in the hip. To alleviate and treat symptoms caused by the disorder it was necessary to visit a physiotherapist regularly, but life on the move made it complicated. Thus, there was a need for a device that could imitate a physiotherapists treatment regularly at home and during travel. Moreover, this device should be sufficiently light and compact enough to carry around when travelling.
The Story
I got in contact with manual traction therapy over 20 years ago, when being on a one week skiing holiday in the Swedish mountains with former football team-mates. After two days of skiing I had so much pain in the hip that I was unable to continue. That same evening I received my first manual traction treatment for hip pain by our former football team's physiotherapist. The treatment gave me immediate pain relief and a soft feeling in the hip groin area. To my big surprise, I was able continue skiing the whole week without problem. I was blown away by the simplicity of the treatment – that having my leg pulled at a certain angle for a short while made such a positive impact on my hip osteoarthritis disorder.
I have now been using TracPal for over two years once or twice a week to keep my pain and joint mobility under control. I also use TracPal when accidentally putting too much stress on the joint, which then helps me to recover faster. It is a saviour knowing that TracPal always is close by for help – at home, in the office or when travelling.
Why Indiegogo?
You can help us launch the TracPal device by funding us on Indiegogo.
The Indiegogo campaign is a great way to find start-up funds without having to give away a large part of the company to venture capitalists. Company values can therefore be kept and gained not only by providing innovating products necessary to change people's life, but also by being an important source of information and communication for customers through social media.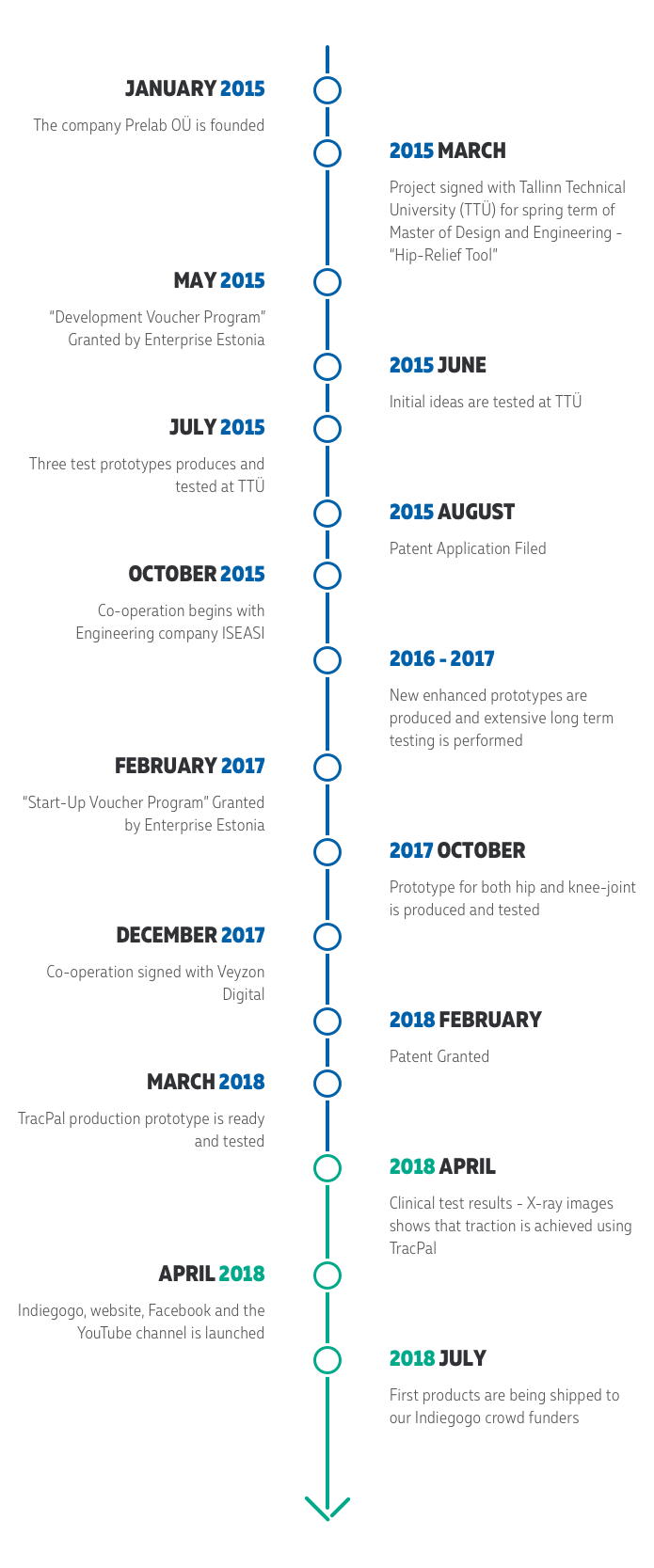 The funds received will be used to:
Get TracPal out on the market and reach more hip and knee disorder sufferers.
Develop TracPal further.
Innovate and develop new products to widen the product mix for better service.
Contribute to scientific papers associated with TracPal and hip/knee disorders.
Build up a social media community to get people to talk, share experiences and tips concerning disorders associated with hip and knee pain.
Björn Eriksson
Founder of TracPal
Osteoarthritis in hips
Supporters
Enterprise Estonia
The creation and further development of TracPal has received start-up support from Enterprise Estonia.
Program: Start-up Support
Description: Prelab OÜ will bring to the market a new and innovative product – TracPal medical device for home use. This medical device provides pain relief for hip- and knee-joint disorders (e.g., osteoarthritis) without the use of medications.
Purpose:
On-line Shop / Website
Presentation Booklets
Instruction Video and Product Photos
Labour Cost
Granted Amount: €15.000